Noritsu Precision Co., Ltd. and Plaza Create Co., Ltd. co-developed Self Service Photo Printing System called "First Lab." "First Lab" was developed by fully utilizing Noritsu's world's best silver halide technology. It was released in February 2017 and is installed at newly opened self service photo printing section, "Smartphone Print Station" at Softbank shops.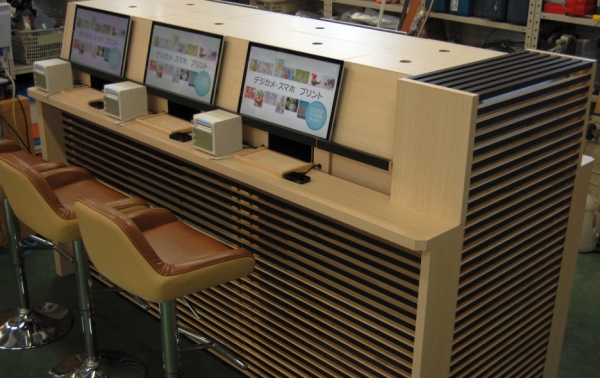 First Lab Image
As of July 6, 2017, "First Lab" is installed at 29 Softbank shops nationwide in Japan. The service that matches the needs and lifestyles of general consumers is attracting many customers with photo printing needs by providing convenience and high quality photos.
"Smartphone Print Station" provides high-quality Silver Halide photo prints with smartphone photo images. Silver Halide photo prints used to be available only at photo retail stores. However, now, with self service "First Lab", consumers are able to enjoy printing such photos easily at mobile phone shop. Available print sizes are; 3R (3" 1/2 x 5"), 2L (5" x 7"), and 8R ( 8" x 10").
Printing procedures are very easy; load data to be printed, choose print size, print the photos and pay at the counter. Unlike home inkjet printers or dye sub printers, Silver Halide photo print can deliver superior quality in terms of contrast, depth, and texture by emphasizing natural colors.
Acceptable media are iPhone/iPad, Android smartphone/tablet, SD/Micro SD, and USB drive. Smartphone App "Misepuri (Store Print) for SoftBank" is also available to make photo printing quicker by choosing images before visiting stores.