We have launched high capacity and versatile industrial use photo finishing printer "QSS GreenIII". This product will be exhibited at "PHOTONEXT2018" on June 5th and 6th, 2018 at Pacifico Yokohama.
We provide a wide variety of services to our customers as total solution with our operation software "EZ Controller", and on-site/on-line order software "Smart Picture Creation".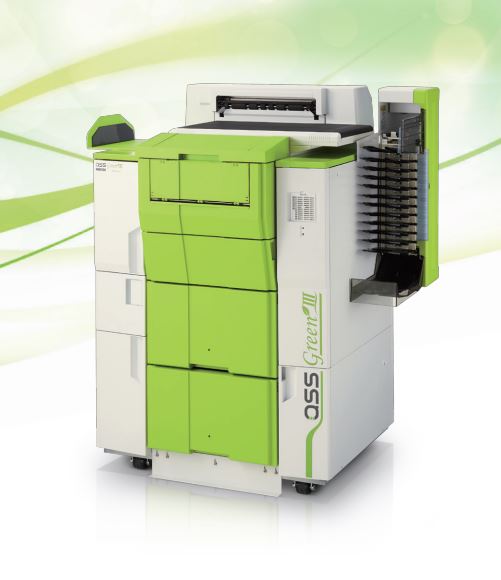 QSS GreenIII
<<Main features of "QSS GreenIII">>
(1)High speed processing and make enlargements
With our Inkjet photo finishing printer, the fastest print capacity for 127×89 mm (5″x3.5″) is 1,180 prints/hour. We newly added the capacity of 305×1,400 mm(12″x55″) to support a wide variety of customer's needs.
(2)All-in-one design of 2-lane dual magazine system
Our paper magazine has all-in-one design and up to 2 magazines for maximum of 305 mm width paper roll can be loaded. In addition, 2 types of different paper rolls can be loaded into a magazine enabling up to 4 paper rolls at a time. Foot print is as compact as 0.69 m2 (7.43 sq.feet), which enables layout to be freely coordinated.
It will contribute to profit increase per unit area.
(3)High quality and high resolution prints
Our high reputation ink has high color reproducibility and rich gradation expression. That enables to provide high quality prints and boast excellent lightfastness and long lasting colors. What is more, GreenIII can print 1440x1440dpi high-resolution prints. Those are less grainy and have smoother gradations than standard prints. Furthermore, this improvement in terms of graininess has the effect of producing a better portrayal of contrast, texture, and depth.